Leo Brouwer
Cuban Sketches for Piano
By Mariel Mayz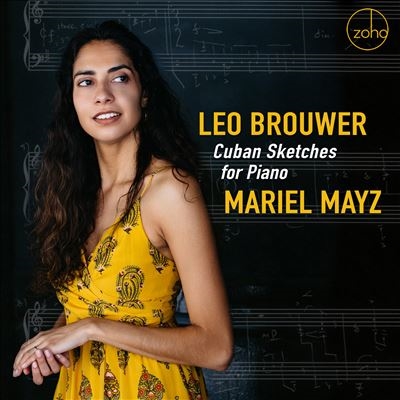 Liner Notes
By Kabir Sehgal
To know contemporary classical music is to know Leo Brouwer. An acclaimed Cuban composer, conductor, Brouwer has long been celebrated as a modern-day Mozart who has birthed an inimitable body of work. While he has composed for a variety of formats, from quartets to orchestras, Brouwer's canon is most widely associated with the guitar. For starters, he is a terrific classical guitarist whose teachers come from impressive lineage. His teacher's teacher's teacher was Francisco Tárrega, widely considered "the father of classical guitar." As the saying goes, "the apple doesn't fall far from the tree."
But to truly know Brouwer is to also know that he has also composed exquisite works for solo piano. Enter, Mariel Mayz. She is a remarkable pianist, composer, and teacher who has performed at venerable institutions such as Carnegie Hall and Lincoln Center. She even wrote a chamber opera that premiered during New York Opera Fest. She helped to start Porto Pianofest, an annual piano festival in Porto, Portugal. Like Brouwer, she wears many hats and moves deftly among these roles.
Quite naturally, Mayz first became aware of Brouwer via his guitar compositions. Some of these impactful compositions include "El Decamerón Negro", "Variations on a Theme of Django Reinhardt", "Tríptico", and the "Estudios Sencillos." Mayz heard some of these selections performed by João Luiz, a fellow ZOHO label Artist, and was thoroughly impressed. "I came to truly experience the detailed layers, references, and unequivocal finesse of Brouwer's sound world," she said. In fact, she credits Luiz for suggesting that she learn Brouwer's Diez Bocetos for solo piano. "This music was utterly idiomatic, imaginative, and brilliant," she reflects.
Mariel Mayz's Leo Brouwer: Cuban Sketches for Piano is a thoughtful, elegantly rendered piano solo album that features world premieres of two multi-part pieces: "Diez Bocetos" and Nuevos Bocetos para Piano. Listening to these works is surely an awakening, as you'll come to see Brouwer in a new light. And you'll no doubt be enveloped by Mayz's magical virtuosity as a performer and composer on this production.
Diez Bocetos ("Ten Sketches") were composed by Brouwer between 1961 and 2007, ultimately published by his own publishing imprint Ediciones Espiral Eternal. There's a lot packed into each selection. Not only is each piece numbered but each is titled after a Cuban visual artist. Each is also dedicated to another individual. For example, "a Egberto Gismonti", "a Chucho Valdez", and "a Isabelle, mi mujer." Brouwer imbues his music with even more vitality, notating passages when the performer should improvise: for example,"Improvisación (ad. lib.)" and "Cadenza ad. Lib. (alla Gismonti)."
Mayz performs these ten pieces with aplomb, navigating complex chromaticism and sprawling jumps with precision. Boceto No. 3 is particularly moving and Mayz performs it with a tender touch and reflective balance. Other notable moments include the beginning rumblings of Boceto No. 7, tranquility of Boceto No. 8, and the kaleidoscopic habanera of Boceto No. 9.
With the world premiere of Variations on a Theme by Brouwer, we meet Mayz the composer, who wrote these variations based on Brouwer's melancholic theme from Dia de Noviembre, the 1972 movie directed by Humberto Solás. The piece begins with the well-known opening, and as it moves to the B section, Mayz reveals her variations, which unfold thoughtfully throughout. Variation 1 is notated "Lontano; unanticipated" and showcases Mayz writing with a new compositional language. Each variation moves seamlessly to the next. No doubt, you can hear Brouwer's inspiration in passages with this trademark of angular, melodic cells. Yet these themes have the texture of something more: rhythmic chords, brash tonal tensions, rich improvisations, and a panoramic understanding of Latin America's musical traditions and stream-of-consciousness soundscapes. To put it simply, Mayz is out of this world.
Nuevos Bocetos Para Piano ("New Sketches for Piano") are three Brouwer pieces completed in 2021 and sent to Mayz in early 2022. They have a similar structure as "Diez Bocetos" with intriguing and vivid passages. Each selection is also given the name of a Cuban visual artists. That they are numbered 3 through 5 suggests that there must be two bocetos that haven't yet been made public by Brouwer. Mayz performs these three pieces with alacrity. It's during the up-tempo sections of Nuevos Boceto No. 3 that Mayz's intrepidness is on full display, moving with thought and yet as if it's second nature. The enigmatic No. 5 is a searing and searching piece that Mayz brings to life to full effect. Indeed, Mayz has inhabited the vivid world of Brouwer, and she shares her takes without compunction.
"An Idea" (Passacaglia for Eli) is Brouwer's stirring tribute to Eli Kassner, a Canadian guitarist on his seventy-fifth birthday in 1999. Mayz was drawn to this particular piece because of a peculiar notation in measure eighteen: "quasi fiorituri Chopiniana," which means "almost flowering Chopiniana." That, of course, refers to the Chopin-like embellishments familiar to pianists such as Mayz. To be sure, "An Idea" has become a recurring one at her shows, as Mayz likes to program this striking number at her concerts.
Mayz is a gifted guide through the world of Brouwer. This album is not just a serene meditation but welcoming invitation into the untrammeled areas of Brouwer's canon. His music doesn't just work for six strings but eighty-eight keys. We should all be delighted and grateful that Mayz took up the charge and delivered a seminal work that will continue to make waves for years to come. Brava!