Sky Blossom
Alexis Cole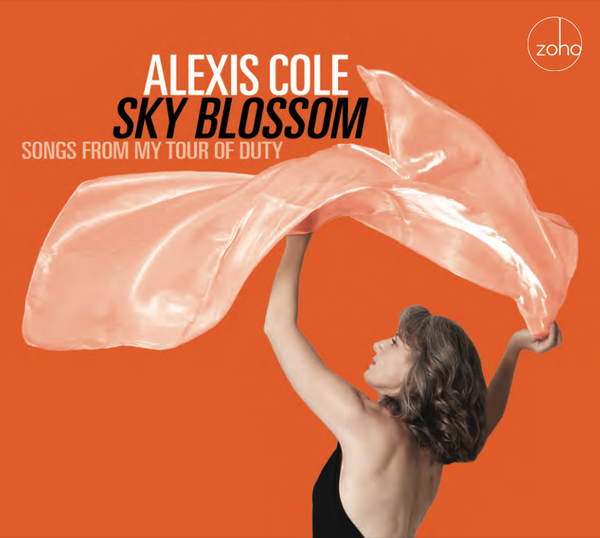 Liner Notes
By Kabir Sehgal
Rare it is to find an artist as special as Alexis Cole. There's no doubt that she's one of the best jazz vocalists of our times. But it's her rich life experience, and her ever unfolding story that takes her art to the beyond. When you hear her music, you can tell this is someone who has an abiding curiosity, an adventurous spirit, and an unrivaled talent. Maybe you already know the contours of her journey: She was born in New York, grew up in Florida, but after college she volunteered with AmeriCorps in Paterson, NJ, studied singing in India, and lived a gypsy life teaching in Ecuador, performing in Japan, and spending the summers traveling around Europe. In 2009, she enlisted in the US Army and served as the big band vocalist for the West Point Band's Jazz Knights until 2015. See what I mean? It's not a typical story. And maybe that's why Alexis doesn't make typical music.

The title Sky Blossom- a military term for an opening parachute, is a nod to Cole's service, and the origins of this album, which actually begins with her time in the Army band. Cole chose this title because "In music and in life, I try not to be afraid to jump into the unknown, having faith that my parachute will open. Joining the Army was a big leap, and it led me to places I never could have imagined."

The music from Sky Blossom also includes numerous moments of great adventure. Scott Arcangel was the musical director of the Jazz Knights who arranged many of the pieces for the band, including several that featured Cole. He had an exceptional ability to write music which drew upon the intrinsic talents of each bandmember, so they could shine on the bandstand. During Cole's tenure with the band, she recorded some of the vocal pieces on Turning Points (2010). While that production was indeed well rendered, it wasn't a full accounting of Cole's repertoire during her time in the armed services. The seed had been planted to one day release an opus with more of these features: "It was my dream to put them all together on their own album," said Cole.

After she left the service, she nurtured this dream. Indeed, she had the repertoire, and in 2017, she would find a band and musical collaborator in Jeff Jarvis, whom she met at the Jazz Education Network Conference (JEN). "I had seen his band perform, and I was moved to tears by the beauty of their sound," remembered Cole. Later, she would record the vocals and tracks in Claremont, California at LMP Studios. "It was a thrilling experience, hearing all this music again – after a hiatus from performing it." What's more, she continues, "My sound and approach had changed, and I was hearing them with fresh ears." It took her a few more trips to California for studio work to complete this album, and she ultimately made something both fresh and familiar.

Many of these pieces you may have heard before. But not quite like this, with each piece inhabited fully with Cole's magical and even majestic vocals and interpretation. The album is as much a musical statement as it is a journey into the ocean of emotions, thorns of melancholy, and sunlight of joy. Indeed, you'll experience a full range of feelings as you listen to these numbers, as Cole has an uncanny ability to explore the complicated depths of the heart.

The album opener "Joy Spring" is an upbeat, sunny affair with Cole moving through the progression with a bright and brilliant performance. She's clearly at home on this piece, as she's loved singing it, with its inspiring lyric by Jezra Kaye, since she was in college. Her remarkable ability to scat is on full display, as she weaves effortlessly in a musical conversation with the band and John Castleman's building trumpet solo.

"Pure Imagination" is a piece that Arcangel long wanted to arrange. "I love the message of this song, that the only limitation to your reality is your ability to imagine it," said Cole. After hearing this song, it's hard not to imagine Cole's performance (with Bob Sheppard's saxophone solo) as the definitive version.

"How Long Has This Been Going On" was in fact the first song that Cole performed with the Jazz Knights. Days after she returned from basic training at Ft. Leonard Wood, Missouri, she was tasked with singing this piece onstage: at Trophy Point, a scenic overlook of the Hudson River Valley located at West Point, New York, in front of thousands of people. Cole's performance on this selection is other-worldly, as her voice soars above the harmonic accompaniment. Jarvis' stirring trumpet imbues the piece with added intrigue.

"All Blues" is a song that you'll hear at Cole's performances – if you show up early. It's her go-to soundcheck piece because it has a large vocal range, from low to high. Knowing Cole's proclivity for this piece, Arcangel eventually surprised her with this arrangement which has a terrific soli and shout section. The harmonic lines are quintessential Arcangel with classic power chords. With the low brass wailing at high volume, the time suspension gives the piece a propulsive feel. Derrick James who also played in the West Point Band performs a riveting alto sax solo.

"Estate" is a bossa nova that became a mainstay of vocalist Shirley Horn, one of Cole's greatest influences. The piece moves between melancholy and mellifluous with a resplendent fluegelhorn solo by Jarvis.

"Across the Universe" is a Beatles tune that was on the iconic Let it Be album (1970), their last release. This particular arrangement was made for a summer concert at West Point, which coincided with the end of Cole's enlistment: "It was a difficult transition," said Cole. And indeed, it speaks of Cole stepping out into the unknown, into a new phase of her life, with the faith that she would land on her feet, "Nothing's gonna change my world." The blend of church-like brass and Indian drones represents, in a sense, worlds coming together for this send-off. In addition, Icelandic sound designer Sébastien Nouat aka Wazy Lizard added elements that give this piece an ethereal vibe.

"Triste" is an earnest and stirring number which has long been a favorite of Cole's. This number includes Paul Meyers (guitar), and David Finck (bass).
"How I Wish (Ask Me Now)" Cole first met Hendricks at a jazz festival while she was living in Toronto. She was keen on creating a project based on songs for which he'd written lyrics. Hendricks invited her to go through some of his
unpublished works. "It was great to sit down with him and see these tunes that I had never heard," said Cole. And about this particular Thelonious Monk song she observed, "I've always loved this lyric, a song of regret." This sublime performance features a piano solo by Arcangel.
"Social Call" is another terrific lyric by Hendricks. The pairing of Cole's voice with the saxophone soli works brilliantly, and gives way to Sheppard's remarkable saxophone solo.

"New York State of Mind" is a fitting piece for this album as Joel lived briefly next to West Point in Highland Falls, New York. The Jazz Knights performed a summer concert of his music. In a word, Cole's performance is outstanding. She takes the piece to another level with her enveloping voice and presence.

"Our Love Is Here to Stay" was adapted from a version meant for a small group. This expanded version adeptly showcases the multiplicity of a big band and its powerful sound. Alex Flavell (piano) and Nathan King (tenor saxophone) are featured soloists.
"American Anthem" is a fitting capstone to this album, as Alexis performed it at the end of her tour of duty in 2015. She sang the piece at an epic concert at Trophy Point with an audience of more than 10,000 people, with fireworks to boot. The West Point Corps of Cadets were in attendance, so Alexis was indeed singing for the future leaders of our country. This song took on even more meaning in early 2021, when President Joe Biden quoted its lyrics during his inaugural address.

Sky Blossom is a modern masterpiece. Cole's time in the armed services may have come to an end, but her service continues with her vivid and luminous music. She has both defended our country and is now lifting our souls. Can there be a higher calling? As a Navy man myself, all I can say is Bravo Zulu! It's been a privilege for Paul Avgerinos and me to help produce her outstanding work.

Kabir Sehgal