Chant For Our Planet
By Marco Pignataro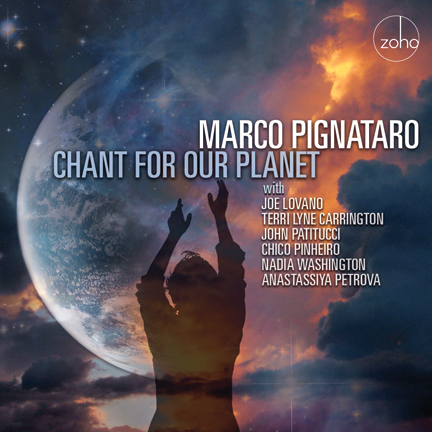 Liner Notes
By Kabir Sehgal
From murmuring brooks to the eruption of scalding magma, sound is ubiquitous on our planet. What is more, according to satellite data — scientists theorize that sound waves may have been present at the beginning of the universe. Since antiquity, philosophers and poets have explored the fundamental link and life here on planet earth. Mother Nature indeed has a rich spectrum of timbres, rhythms, and beats, that you can hear if you pause and listen. There is music all around us. There is music in our midst.
But sometimes we need a jolt, a reminder that we are not above nature but part of it. Not just spectators but musicians in the symphony of earth. Marco Pignataro's Chant for Our Planet is a stirring, magnificent music opus. It's also a clarion call for better stewardship of our shared home, our planet. Indeed, this was Pignataro's mission upon creating this work that was commissioned by the Tällberg Foundation, which seeks to inspire positive climate action and nurture innovation by exploring societal challenges through the prism of music.
"Jazz music has historically been a powerful artistic medium to inspire, educate, empower and advocate for social change in our community. Using jazz to advocate for reforming climate policies is now a mandate for conscientious artists to inspire more care for our world," said Pignataro.
Creating such a lofty project requires an artist with a global outlook. After all, humans drew the borders between countries, but music helps us see past these lines and to recognize our shared existence. An acclaimed saxophonist and composer, Pignataro hails from Bologna, Italy and served previously as professor & founding Director of the Jazz & Caribbean Department at the Conservatory of Music of Puerto Rico. Together with Danilo Perez, he presently co-leads the Berklee Global Jazz Institute (BGJI) at Berklee College of Music in Boston. His passport has been stamped the world over, as he has traveled extensively as a touring artist and performed with the likes of Eddie Gomez, Billy Hart and Rufus Reid, among many others.
Pignataro assembled a veritable cast of jazz all-stars for this special project: John Patitucci (bass), Joe Lovano (saxophone), Terri Lyne Carrington (drums) and Chico Pinheiro (guitar), as well as the emerging talents of Anastassiya Petrova (piano) and Nadia Washington (vocals), both alumni and faculty at the BGJI. And wow, does the band ever come together for this inspired work!
Suite: Terra – Mare – Cielo (Earth – Sea – Sky) composed for this project by John Patitucci, is an elegant, evocative tour-de-force which immediately sets the asserting tone of the album. Throughout you hear musical representation of the various elements found across our planet. Patitucci's bass solo may be a simulacrum of earth itself, grooving and even bellowing from underneath. Washington's vocals float above, an aerial loop that lifts the piece. The evolving number shines the light on every band member, showing that it will take a unified effort to play and ultimately live together.
Agua de Beber (water to drink) is a well-known piece by Antônio Carlos Jobim, which was arranged by BGJI alumnus & faculty Edmar Colon. The piece begins with an unfolding bass line with well-placed cymbals, which create space for Washington's vocals and featuring powerfully propulsive solos by Marco on tenor sax and Chico Pinheiro on guitar. The choice of this famous composition is a nod to the importance of water and its management, as fresh water becomes increasingly under threat from contamination. The United Nations projects that the risk of floods will increase dramatically over the coming decades, which could threaten 3.2 billion people.
Moon Threads composed by Pignataro is a thoughtful musical meditation. He pondered the way in which the moon affects the tides, and how the sea bulges due to centrifugal forces. Rising water levels, due to climate change, will surely have many consequences including more high-tide floods. "I realized that words and memories can also be overwhelming, like tidal forces," reflected Pignataro. Throughout this piece, there are soulful performances by Marco (here on alto sax) and Pinheiro (guitar), which may evoke musical remembrances of jazz legends long past.
As It Should Be composed for this project by Joe Lovano, begins as a pedaling, pensive number that builds with intensity throughout, especially as the groove gets established. Lovano wrote five words under the song title on the sheet music: Freedom, Justice, Hope, Love, Compassion. That this song is unmoored to traditional blues changes or jazz harmony shows how defending the planet is a paradigm shift. It takes radical new thinking, innovation, and the freedom to speak truth to power.
Nature Boy was the first song recorded by Nat King Cole. It was composed by Eden Ahbez in 1947 as an ode to Lebensreform, which was a reform movement that propagated an organic way of life such as being a vegetarian and sensible farming. The tune became a number one hit for Cole for eight weeks. The popularity of the piece inspired audiences to learn more about the song and ultimately its philosophical underpinning. The piece features Marco's searching solo tenor saxophone reflections, which ascend and descend with purpose and dexterity until Chico Pinheiro joins in and the melody of the song is fully stated with poignancy and somberness.
On Irene's Path is Pignataro's composition which was inspired by Hurricane Irene and its aftermath. From West Africa to the Americas, this destructive hurricane caused significant damage, and we're still dealing with what it wrought. Such extreme weather variations can have untold consequences, from higher average temperatures and higher air conditioning costs, to crop damage and the spread of infections such as Lyme disease. Musically, this composition begins with accented drum hits, signifying a premonitory call for the incoming natural destruction.
The band plays seamlessly together, a blended brew of virtuosos riffing counterpoint by Marco on soprano sax and Lovano on tenor sax. Chico Pinheiro's propulsive guitar solos follows and enfolds as the rhythmic section changes gears from a frantic fast swing to a tribal 6/8 Abakua rhythm, symbolizing the formation of hurricanes forming off the West African cost. The number picks up steam, moving from one voice to many, evoking powerful whipsaw currents you might experience amid a storm.
Agua Falando – Chant for Our Planet ends this album as an unapologetic anthem/call to action to respect and protect Mother Nature. Nadia Washington's rapping lyrics unambiguously address these climate challenges head-on, supported by Marco and Joe's murmuring and unfolding saxophone lines and Carrington's infectious hip hop drum beat.
Chant for Our Planet is a watershed project. It follows in the tradition of jazz music being leveraged for social change. Pignataro has picked up the baton (and his saxophone) and forged ahead, paving a new direction for jazz. The challenge of our times is making sure our planet is safe and secure for future generations. That an artist of Pignataro's caliber has offered his talents to such a noble cause is remarkable. It's been a joy to help Pignataro on his quest. May his music inspire many more to take action towards protecting Mother Nature for future generations.