1. Why are you a musician?
I am a musician by necessity, because I simply need music to heal and live. I really became a bassist in my adolescence by accident. When I was 16 years old playing sports, I suffered a tragic accident that caused me to lose my right eyesight. It was a traumatic and sad experience, but a friend — a teenager like me — invited me to join his band to play bass guitar. I can't find words to describe how music helped me heal during that stage of my life. But since then the bass and I have been great companions.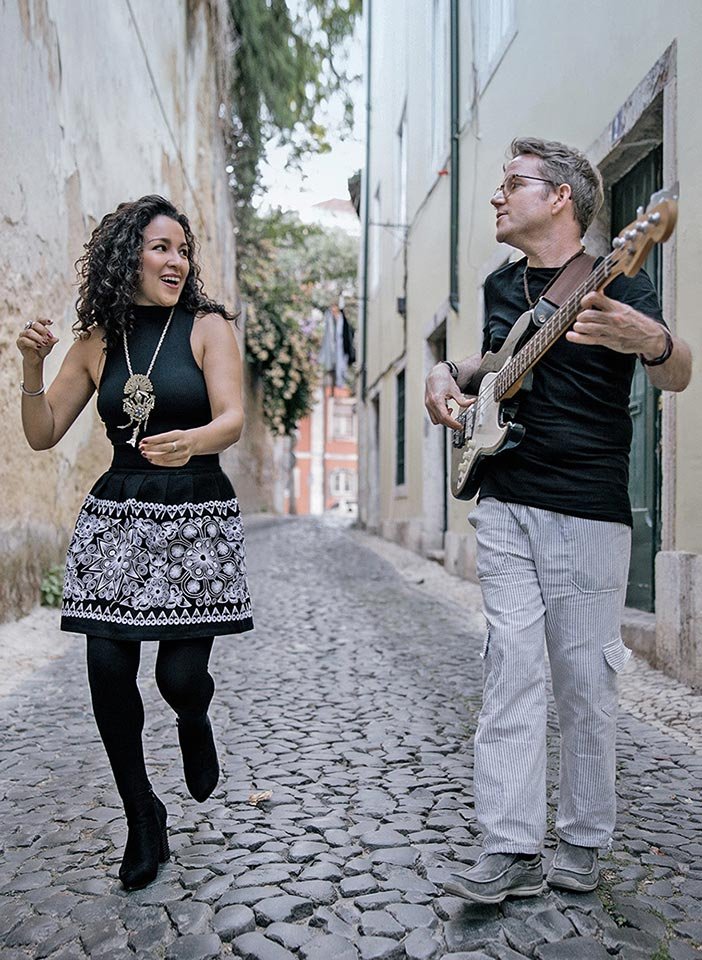 2. Who are your musical inspirations?
My greatest inspiration will always be Marjorie Shea, my maternal grandmother, she was a very talented pianist and singer; loved for her renditions of Broadway tunes and the hits of the 30's and 40s. She was the first who made me take classical piano training so absolutely my grandmother had a great influence on my musical education.
On the other hand, my influences have always depended on what moment I find myself. These past few weeks I have been deeply inspired by seeing these artists live and up close: Arooj Aftab, Marcus Miller, Joe Lovano, Brad Mehldau, Christian McBride, Brian Blade and Joshua Redman.
3. What is your practice routine?
I don't have a routine exactly, but I make time every day to connect to my music and make sure I find new things to work on all the time. This means listening to new music, composing new ideas, shedding upright and electric, working on a variety of musical styles, playing by ear or just going out to see music. I see this as part of all of the same process of just trying to get better and stay on top of your game.
4. Why did you make this album?
The Sacred Leaf
By Afro-Andean Funk
I am a lover of traditional cultures. I've gotten very close to traditional artists and their stories, and maybe that's also been a way for me to connect with some root that I felt I was missing as an American.
This album The Sacred Leaf was born out of our Just Play traveling music documentary series, the platform we created to bring visibility to these traditions and cultures of the African diaspora. In 2018 I traveled with my team to document the scene in Peru and invited different artists to be part of the album, one of them was Peruvian singer Araceli Poma, together we have formed AFRO-ANDEAN FUNK, to break some cultural barriers. We have embraced our cultures, our shared passion for global music and that is how our band was born.
5. What were the biggest obstacles in making this album? 
I think the biggest obstacle is always your mind, which sometimes fills us with doubts. But if we can handle our mind we can handle the rest.
Being an independent artist is a great challenge too, this career is for the brave. It requires a lot of patience, perseverance and love for what we do.
And it is precisely with these last three things that I mention that I have overcome this challenge.
6. Who is featured on the album?
I am privileged to have created the music for our album with Araceli Poma, an outstanding Peruvian singer, representative of Afro and Andean culture. It has been a wonderful process of composing and performing our own music together. Together with Araceli, we lead Afro-Andean Funk.
The first person we called on was a virtuoso Argentine DJ, Grod Morel, who worked on the electronica aspects of the album. Some of my favorite artists were also part of this album, such as Neal Alger on electric guitar, Misha Tshiganov on piano, Shirazette Tinnin on drums, Fredy 'Huevito' Lobaton on Afro-Andean percussion and Fredy Gomez on the Charango.
Our special guest was singer and producer Manno Beats from Haiti. Crafting the lyrics on a couple of the compositions was Lara Bello from Spain.
7. Where may we find you online?