1. Why are you a musician?
I have started playing guitar at a very early age, hence my love and passion for the instrument and music. The guitar has always allowed me to express my emotions, feelings and life, thereby being able to disseminate these feelings to the world via music.
2. Who are your musical inspirations?
Growing up in Rio de Janeiro, Brazil I was inspired by the bossa nova giants such as Tom Jobim, Marcos Valle and many others artists. Studying jazz later, I was inspired by various genres of music and artist and started to appreciate and listen to Soul, Funk, Smooth Jazz, R&B and most music that came my way.
3. What is your practice routine?
I usually start the mornings by playing chord changes on the guitar and trying to find different ways to harmonize various songs. By doing it so, I sometime develop new ideas for new songs. I then study a bit of scales, improvisations, techniques and rhythms. I also spend time listening to music and try to analyze the chords, how the band is communicating, etc…
4. Why did you make this album?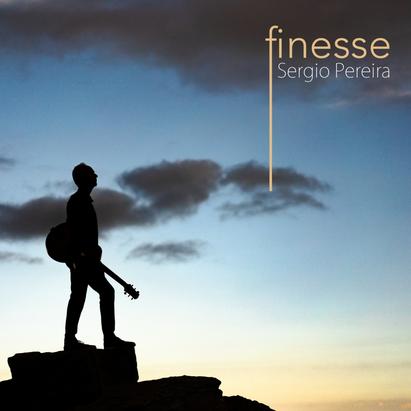 During the pandemic I was able to study, reflect and compose new songs that described my life and feelings during these dark times. The new album "Finesse" was recorded all remotely and has a mixed of songs that described these feelings which includes bossa, jazz, samba, smooth jazz and all the "baggage" I have within me throughout my life and had the time to stop and think and deliver it through my music. I needed to get it out to the world.
5. What were the biggest obstacles in making this song? How did you overcome?
The biggest obstacle initially was the idea of not being able to record the album in a studio with all the musicians involved due to the pandemic. However, recording remotely allowed me to include various musicians from different parts of the world. In a way, the obstacle that initially was thought to be an issue become somehow positive as it reduced the pressure of studio recording as they all had the "luxury' of recording at their homes at their leisure. Good planning (i.e. charts, guide recordings, zoom sessions, meetings), communication and brilliant artists made it all easy land reduced the obstacles.
6. Who is featured on the album?
The album features Helio Alves (piano), Rubinho Antunes (flugel), Milene Corso (vocals), Mark Egan (bass), Vitor Gonçalves (accordion), Gabriel Grossi (harmonica), Reza Khan (guitar), Matt King (keys), Filó Machado (vocals), David Mann (sax/flutes), Emílio Martins (perc), Ralph Moore (sax), Jorginho Neto (trombone), Paulo Paulelli (bass), Camilla Pereira (vocals), Christos Rafalides (vibes), Paula Santoro (vocals). Marcus Teixeira (guitar), Rodrigo Ursaia (sax/flutes), André Vasconcellos (bass) and Mauricio Zottarell (drums and co-producer).
7. Where may we find you online?